An explanation of outsourcing through 4 examples
The main reason why companies across different industries choose to outsource different processes is actually generally the same. Peter Drucker summed it up neatly when he advised businesses to "do what you do best and outsource the rest!". Basically, this means that businesses should focus their work on their core competencies and outsource the rest of the work. In this article, we'll take a look at a few outsourcing examples to see how some of the most successful businesses followed this advice.
1. Intel
Outsourced service:
14nm chip production to TSMC
Why:
Due to delays in 10nm chipset production and lower production yield with new processes, there was unexpected demand pushed back on to Intel's production line. The decision was made to keep 10nm production in house and outsource 14nm and 300-series processor production to TSMC.
The complex nature of 10nm production had contributed to the delays. There were also trade secrets associated with the newer chipset that the company didn't want to share externally. This along with the forecast in 14nm chipset shortage meant that it made more sense to outsource 14nm production to TSMC, which would enable them to quickly alleviate the shortage as well as the pressure on their manufacturing capacity.
2. GSK
Outsourced Service:
IP Management
Why:
GSK is a global healthcare company with more than 90,000 trademarks in its portfolio. Prior to outsourcing, the company was using two separate legacy systems to manage its trademark portfolio, one to manage data and one to manage documents.
Tracking all of this was difficult, while managing applications and renewals across more than 100 countries created lots of repetitive work for GSK staff.
In order to address these difficulties, GSK Legal used outsourcing to find an integrated platform, merging all its data and documents into a single system which enabled it to be more effective and efficient. Most notably, outsourcing enabled the company to benefit from automation of certain tasks, especially in the applications, renewals, search and clearance processes.
It estimates that the decision to outsource has reduced the time required for mass filing across 20 countries by 70 percent.
Do you want to know more about data and perspectives of Outsourcing?
Download our infographic!
3. Netflix
Outsourced service:
Cloud migration to AWS
Why:
Following a major database corruption in 2008, Netflix could not ship DVDs to its members for three days. Not only did this create issues with its current customer base, the company was expecting significant growth over the coming years as it grew its streaming platform, and their solution was not scalable to support that growth at the time.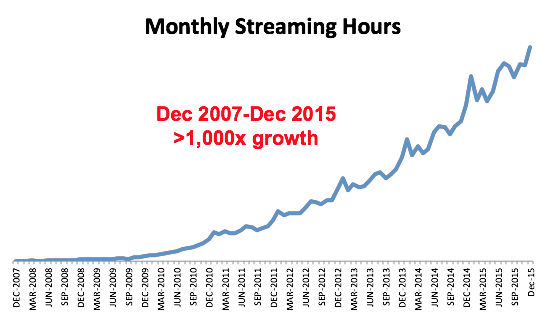 Recognizing the limitations of its vertically scaled single points of failure, e.g., relational databases, and the benefits of having a distributed cloud provider, Netflix opted to outsource its data center services to Amazon Web Service (AWS). The goal was to improve operational agility by removing the heavy lifting of data center infrastructure maintenance while improving developer productivity and scalability. After a long process, Netflix completed the migration in early January 2016.
According to the Netflix blog: "The Netflix product itself has continued to evolve rapidly, incorporating many new resource-hungry features and relying on ever-growing volumes of data. Supporting such rapid growth would have been extremely difficult out of our own data centers; we simply could not have racked the servers fast enough. Elasticity of the cloud allows us to add thousands of virtual servers and petabytes of storage within minutes, making such an expansion possible."
4. Lincoln Electric
Outsourced Service:
Renewals, Portfolio Analysis
Why:
Lincoln Electric is a leader in manufacturing welding, cutting, and joining products. The company files around 100 patent applications annually, and launches several hundred products each year. It needed a tool to provide greater depth of understanding about its IP portfolio to help define the value of its IP assets and the resources required to protect them.
Having made the outsourcing decision, the company identified an external solution that could integrate with its existing software systems. This enables it to automate patent and trademark renewal activity, but more importantly, has helped the company identify the relative importance of its IP assets and how those assets relate to each other. Additionally, outsourcing has enabled Lincoln Electric to simplify the IP department's accounting system, allowing for electronic invoicing and payment, while also facilitating more accurate tracking throughout the lifecycle.
For many companies, outsourcing enables them to free up time and resources while reducing overhead costs. In some of these outsourcing examples, the business decision has a clear and successful outcome. However, there are cases where more in-depth consideration is required and close relationships with outsourcing partners is essential. It may even be more beneficial to opt for co-sourcing, where the partner works in house with your employees to establish a stronger relationship and create more value for the company.